Working with Shawn keeps me where I want to be – out in the mountains. He is consistently able to help me recover from the wear and tear I put on myself, and his preventive techniques and instruction help to keep me injury-free. As an athlete himself, he knows how to improve mental and physical performance and always helps me reach my full potential.
– Christy Mahon, Pro Skier/Ultra Endurance Trail Runner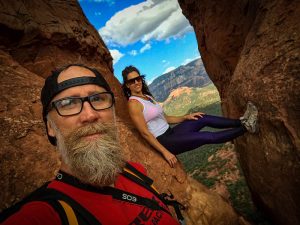 Shawn Hadley is an awareness based manual therapist. He graduated from the Colorado School of Healing Arts in 2006 and studied for his yoga teaching credentials abroad in India later that year. Shortly after, in 2008, he studied for his meditation teaching credentials in Kriya Yoga Meditation at the Expanding Light Institute in California. In 2010 Shawn moved to Aspen, Colorado where he began his study of Active Release Techniques® and focused on working with athletes, repetitive motion injuries, and rehabilitation. Most recently Shawn has relocated to Sedona, Arizona and redefining his manual therapy approach in treating strain patterns and trauma using Myofascial Release studying extensively the last few years with John Barnes. He is also redefining his approach in treating clients through awareness-based mindfulness and movement practices to better serve his clients ability to find ease and flow in everyday life and simply living.  
Shawn has been actively involved in athletics for more than 40 years, for which bodywork has had a profound impact on. He was originally introduced to massage as a tool for athletic recovery as a cyclist when he competed as a professional mountain bike and road athlete for Cannondale and Trek while living in Lake Tahoe, California and Aspen, Colorado.  During that time, he had the pleasure of working with some of the most talented massage therapists in the nation's cycling community, which left a lasting impression on his work. In addition to the role bodywork has played in his athletic endeavors, it has played an equally profound role in his spiritual and emotional transformation and growth, all of which has inspired and led him to pursue his bliss and share his practice with his clients.
Shawn uses a variety of modalities, integrating his expertise in Myofascial Release, Active Release Techniques, Neuromuscular Therapy, Muscle Energy Technique, Yoga, Meditation, Movement and other bodywork modalities to best suit his client's needs. He enjoys being a part of, and is dedicated to, the optimal wellness, healing and human potential of each and every client. If you are looking to improve your sense well-being, optimize your performance, discover ease in your daily grind, find relief from your active lifestyle, overcome a nagging injury, or simply looking for some great bodywork, Shawn is your ticket.
Shawn continues to avidly enjoy cycling, surfing, telemark skiing, snowboarding, golf, hiking, climbing, photography, meditation, yoga, traveling, cooking, art, music and movement.
HIS ULTIMATE GOAL WITH YOU...
In addition to providing exceptional manual therapy, mindfulness and movement instruction, his ultimate goal is to create an experience with his clients that allows for a shift in the perception of themselves, their relationship to pain, their relationship to the world within and around themselves. To give them a tangible experience to return to. To explore ways of reaching that release, that ground of being, that pure awareness. Healing is much more effective and change is significantly increased when the level of mind steps out of the everyday or thinking mind and looks from an awake aware or spirit mind that is deeply rooted in the Now. Along the lines of Albert Einstein's saying "No problem can be solved from the same level of consciousness that created it" – healing and change is exponential increased when we shift out of the level of mind that we were looking from when we experienced the trauma/injury or accepted the belief that is inhibiting our growth, healing and well-being. By shifting levels of mind and becoming aware from that new level of mind during treatment, gives his clients the best possible outcome and provides a safe and awake space for true authentic healing, growth and lasting change to take place.
Licensed Massage Therapist, 720 Hour Program
Colorado School of Healing Arts, Lakewood, Colorado (2006)

Certified Yoga Teacher, 400 Hour Intensive Program
Yoga Point Institute, Yoga Vidya Dham
Mahrashtra, India (2006)


Certified Meditation Teacher, 80 Hour Intensive Program
The Expanding Light, Nevada City, California (2008)


Level 3 Coach, USA Cycling
USA Cycling Incorporated, Colorado Springs,
Colorado (2008-2018)


Certified Active Release Technique Provider
Upper Extremity, Lower Extremity, Spine, Online Recert, Complex Protocols, 150 Contact Hours
Various Locations (2010-2015)


Precision Neuromuscular Therapy Seminars
Upper Extremity, 20 Contact Hours
Denver, Colorado (2014)


Certified Functional Movement Screen Professional®
FMS1 & 2, 48 Contact Hours
Portland, Oregon (2015)


Myofascial Release Seminar
MFR I & II (repeat), MFR III, Subtle Energy I, Rebounding, Unwinding (repeat), Advanced Unwinding, Cervical/Thoracic, Fascial Pelvis, Skill Enhancement, Therapy for the Therapist, 300 Contact Hours
Various Locations (2016-2019)



Bachelor of Science, Landscape Architecture
Colorado State University, Fort Collins, Colorado (1995)


Licensed Massage Therapist (Arizona and Colorado)


Certified Myofascial Release Therapist


Certified Neuromuscular Therapist


Certified Sports Massage Therapist


Certified Functional Movement Screen Professional


Certified Meditation Teacher


Certified Yoga Teacher


Associated Bodywork and Massage Member


Certified Medic First Aid